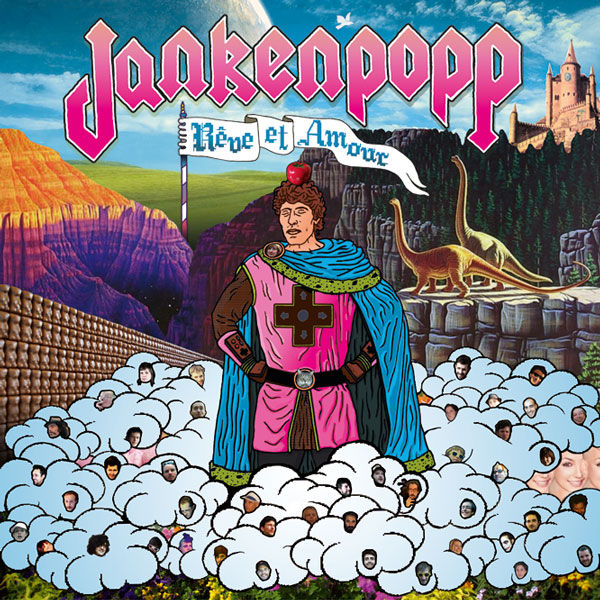 Après quelques apparitions discographiques remarquées sur diverses compilations, plusieurs releases en autoprod et une centaine de concerts à son actif, Jankenpopp sort enfin un premier album. Un projet synthétisant l'ensemble de son univers musical dans un disque riche et cohérent intitulé Rêve & Amour dans lequel se mêlent influences synth pop, chiptune et breakcore. L'album sort sur le label BRK en édition limitée à 200 exemplaires, et en téléchargement gratuit. La musique vous parlera plus que les mots.
After several acclaimed appearances on compilations, a few autoproduced releases and hundreds of concerts, here is the long awaited first Jankenpopp album. Rêve & Amour (Dream and Love), is a rich and coherent album that synthesises Jankenpopp's musical universe, a blend of synth pop, chiptune and breakcore. The album is released on BRK in limited edition cdr (200 copies) and free download. The music will speak better than words…
Téléchargez Ici / Download here
Le CDR, édition limitée, numéroté à la main est disponible: 10€ + FDP.
The limited edition and hand numbered CDR is now available: 10€ + shipping.
Un petit mix preview de l'album / a brief preview of the album

Et un premier morceau pour vous faire les dents / Here's the first track leaked

Jankenpopp Links:
– SITE: http://www.jankenpopp.com
– MYSPACE: http://www.myspace.com/jankenpopp
– YOUTUBE: http://www.youtube.com/user/jankenpopp
– SOUNDCLOUD: http://soundcloud.com/jankenpopp