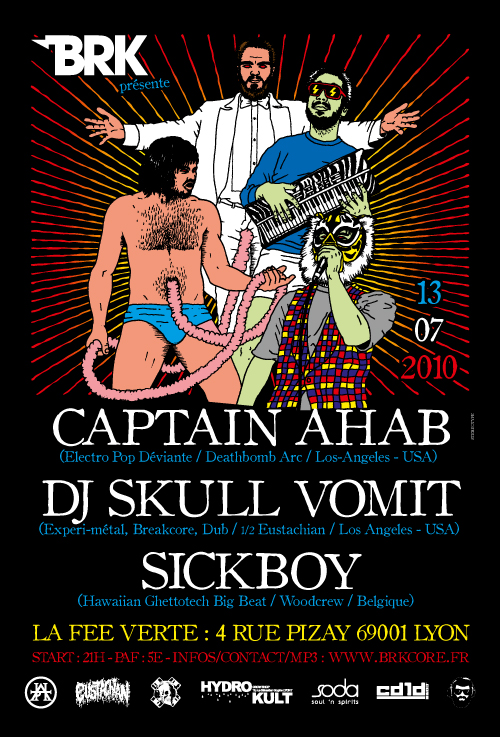 BRK PRESENTE :
warmup by Roundopready
MARDI 13 JUILLET @ Fée Verte – lyon
******************
Vous aurez du mal à nous croire… Mais Sickboy, Captain Ahab, et Tony aka DJ Skull Vomit, une moitié du combo Eustachian seront à Lyon avec la tournée Européenne la plus magistrale et épique de l'été 2010. Une chance unique pour capter trois des artistes les plus créatifs de leur génération! Au menu des performances bien plus explosives que le feu d'artifice du 14 juillet, état de trance avancée garanti! Soyez à l'heure… pour boire l'apéro !!! Ne ratez rien… Vous aurez besoin de votre 14 juillet férié pour vous remettre de cette expérience.
Et pour vous mettre en bouche le tout nouveau release « LIVE » de Captain Ahab en digital release sur cock rock disco… GRATOS!!!
******************
Captain Ahab (Electro pop déviante /// Deathbomb Arc /// Los-Angeles – USA)
Nous avons déjà accueilli Captain Ahab en 2008, ils ont définitivement marqué les esprits. Depuis ces deux personnages décadents ne se sont pas reposés et ont accouchés d'un des opus les plus surprenants de l'année « The End of Irony », un chef d'œuvre de musique électronique hors du commun. Captain Ahab armés de synthétiseurs analogiques et de machines, c'est un projet de musique électronique intemporelle où chaque compo propose un I-réel trip musical avec des influences de punk, free jazz, croonerie, hip-hop, rock, dance ou world music… Cet opus est marqué par la participation de nombreux musiciens issus de la scène alternative bouillonnante du SMELL de LA, dont Captain Ahab est en retour un des protagonistes.
Pour vous sur scène, ils proposeront un set d'énergie pure… Vous ne pourrez pas résister à l'appel du dancefloor… A ne rater sous aucun prétexte…
music & videos: www.myspace.com/captainahab
www.captain-ahab.com
WEBRELEASE sur cock rock disco: Live: The Propagation of the Gospel in Foreign Parts
CAPTAIN AHAB « The End Of Irony » from Deathbomb Arc on Vimeo.
Et une vidéo plus ancienne: pour vous montrer la diversité des productions.

Captain Ahab – « Snakes on the Brain » from Deathbomb Arc on Vimeo.
plus de vidéos sur leur page…
DJ Skull Vomit (Experi-metal, breakcore, dub /// ½ Eustachian/// Los Angeles – USA)
Dj Skullvomit, c'est la moitié de EUSTACHIAN, un des combos breakcore Américains les plus révolutionnaires, efficaces et ravageurs de ces dernières années… Dj Skullvomit est réputé pour ses mixes et tracks dévastateurs qui incorporent sonorités Roots et METAL … Oui c'est surprenant!!!
www.myspace.com/djskullvomit
www.myspace.com/eustachian
SICKBOY (Hawaiian ghettotech big beat /// Woodcrew /// Belgique)
Protagoniste et initiateur de la scène breakcore en Europe avec son collectif Belge Woodcrew, Sickboy a à son actif plus de releases que tout autre artiste de la scène, il a produit quelques hymnes du breakcore et a déjà parcouru le monde entier pour proposer ses sets explosifs mélanges de délires dance mashup et d'intensité pure… Un des instigateurs du breakcore ce soir à Lyon pour vous servir son sens du troisième degré.
www.myspace.com/milkplussickboy
ROUNDOPREADY (warmup – mix /// Handycap records & Infect /// Lyon)
C'est cool notre pote a accepté, en dernière minute, de faire un petit warm-up set… Merci…
www.myspace.com/woodcrew
http://wood.widerstand.org
PAF : 5€
ADRESSE : Fée Verte, 4 Rue Pizay 69001 Lyon
Photos par ROUNDOPREADY & MICKAELL JIMENEZ