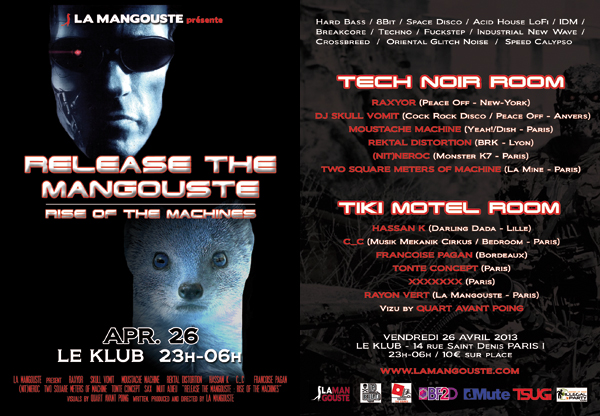 RELEASE THE MANGOUSTE « Rise of the Machines » 26-04-13 / 23h-06h – LE KLUB – PARIS
– Nan nan nan nan nan. Il va falloir d'abord que t'apprennes à parler. On ne dit pas « affirmatif », ou bien des conneries de ce genre. On dit « no problemo ». Si quelqu'un arrive vers toi en roulant des mécaniques, tu dis « va chier ». Et si tu veux en mettre plein la vue c'est « hasta la vista, baby !»
– Hasta la vista, baby.
– Ouais, ou « dégage, sac à merde ». Si un type s'énerve, tu dis comme ça « reste cool ». Tu peux aussi faire des combinaisons.
– Reste cool, sac à merde.
– C'est super ! Tu vois que ça rentre.
– No problemo.
Le nouveau laboratoire electronique de La Mangouste, est de retour : après les aliens, la Release The Mangouste s'attaque aux machines ! Pour cette nouvelle guerre au Klub le 26 avril prochain, on a prévu ce qu'il faut côté armes de destruction massives : Braindance, Space Disco, 8Bit, Acid House, Breakcore, Techno, Deathbass, Dark Dance, Fuckstep, tu vas en prendre plein la tronche, c'est sûr.
2 salles, 13 groupes et artistes en live sets, 1 T-1000, 10 euros,
26 avril, 14 rue Saint-Denis : hasta la vista, baby.
TECH NOIR ROOM
RAXYOR (Peace Off / Murder Channel, New York)
SKULL VOMIT (Cock Rock Disco / Peace Off, Anvers)
MOUSTACHE MACHINE (Yeah! / Dish, Paris)
REKTAL DISTORTION (BRK, Lyon) >>> Chopez le free-mix online
(NIT)NEROC (Monster K7, Paris)
TWO SQUARE METERS OF MACHINE (La Mine, Paris)
TIKI MOTEL ROOM
HASSAN K (Darling Dada, Lille)
C_C (Musik Mekanik Cirkus / Bedroom Research, Paris)
FRANCOISE PAGAN (Bordeaux)
TONTE CONCEPT (La Jambe, Paris)
SAX (Slurp Records, Paris)
INUIT ADIEU (La Mangouste, Paris)
KERIKO (La Mangouste, Paris)
Plus d'infos, liens, et music:
http://www.lamangouste.com
Infos Pratiques
Le KLUB
14 rue St Denis – Paris I
M° Châtelet
23h-06h / 10€