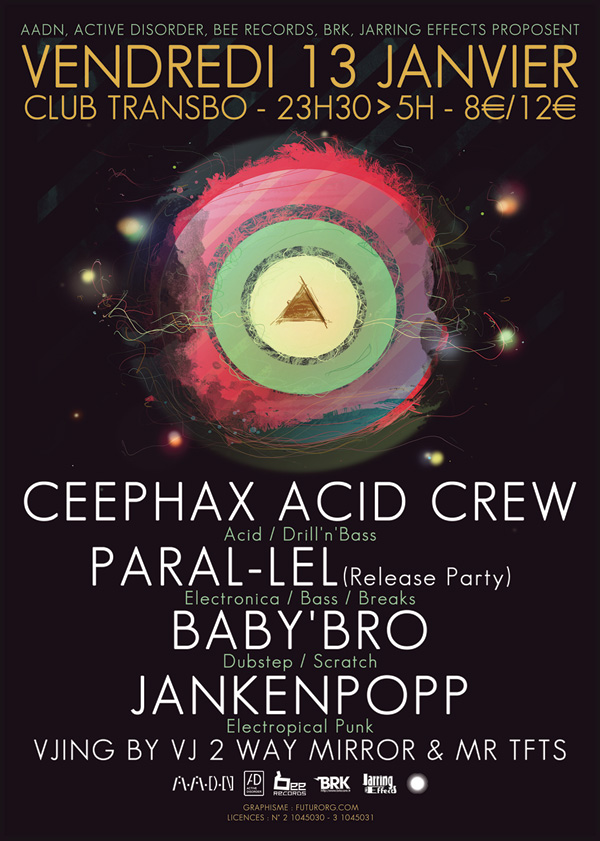 ————————————
ELECTRO / BASS MUSIC / ACID / DRILL'N'BASS / DUBSTEP / BREAKS
---
AADN, Active Disorder, BEE Records, BRK, Jarring Effects et le Transbordeur
présentent
Vendredi 13 janvier 2012
CEEPHAX ACID CREW + PARAL-LEL + BABY'BRO + JANKENPOPP
Club Transbo (Le Transbordeur) – Villeurbanne (Lyon)
23h30 > 5h – 8€*/12€
---
>>>> LINKS:
Digitick
Event Facebook
agenda Transclub
---
CLUB TRANSBO – LE TRANSBORDEUR
3 bvd. de la bataille de Stalingrad, Villeurbanne
Bus C1, C2, C4, C5, C26, 70 et Vélo'v : arrêt Cité Internationale/Transbordeur
---
PHOTOS by : Sam Veysseyre
---
CEEPHAX ACID CREW
LIVE – ACID – DRILL'N'BASS /// UK /// RePhLeX
http://www.ceephax.co.uk
soundcloud & facebook
Ceephax Acid Crew est un artiste électro anglais dont les productions s'inspirent tant de l'acid que de la house en passant par la techno, la jungle et l'ambient. Son univers graphique décalé et son style vestimentaire rétro-ringard old-school sont des véritables signes particuliers. Ceephax produit de la musique depuis plus de 10 ans sur des labels de référence tels que Rephlex, Planet Mu, Breaking Records (label de Ed DMX), Bugklink (label de X&Trick)… Il crée la plupart de ses sons et les jouent en live essentiellement sur des drum machines et synthétiseurs Roland (TR-909, TR-606, TB-303…).
PARAL-LEL (NEW ALBUM RELEASE PARTY)
LIVE – ELECTRONICA – BASS – BREAKS /// FR /// BEE Records
http://www.paral-lel.org
soundcloud, youtube & facebook
Après "Upgrade To Mutant Sheep", "Freaks Rock" et "Monkey Money" le duo Paral-lel est de retour sur scène pour défendre un nouvel album. Avec "Riding The Square Wave", exceptionnellement en vente ce soir avant la sortie officielle de février, les deux lyonnais de BEE Record offre un condensé de bass à la sauce éléctronica a ne surtout pas rater en live. BEE THERE OR DIE !
BABY'BRO
DUBSTEP – SCRATCH /// FR /// Bass Freak Dogz
soundcloud & facebook
BaBy'Bro, c'est l'alliance musicale de deux frangins actifs et reconnus sur la scène Bass Music Lyonnaise. Eric (Babystiff) et Nico (Ratbeat) ont été élevés à la vodka polonaise et aux vibrations sonores des basses.
JANKENPOPP
ELECTROPICAL PUNK /// FR /// Electron Libre – BRK
http://www.jankenpopp.com
souncloud & facebook
Véritable show man, designer d'instruments de musique interactifs, producteur iconoclaste et vidéaste expérimentalo-ludique, Jankenpopp est tout ça à la fois, et parfois même simultanément. Un artiste atypique mêlant sensualité électro, brutalité punk, rythmes tropicaux et humour ravageur dans d'inclassables performances. A suivre, sortie d'album sur BRK…
VJ 2 Way Mirror (No Rules Corp)
Le projet « vidéo concept » de 2 Way Mirror (alias Mysterious Kid) débute à partir de 2006 par l'envie profonde de partager en soirée les nombreux samples vidéos qu'il avait accumulées en tant que passionné d'esthétique, d'image et de cinéma. Dès lors, il participe à de multiples événements culturels et sa capacité d'adaptation ainsi que la diversité de ses samples lui permet de multiplier les collaborations avec des artistes musicaux issus de scènes complètement différentes (Dub U, Dawa Hi Fi (dub) Miso Soup, Harvard Bass, U Stone, The Fat Riderz (électro) Silent Witness,Khanage, Jade, Break (drum) Nestor Kéa, Dj Fly (hip hop…).
VJ Mr TFTS
Comme chaque matin, monsieur tout fin tout seul prend son café, gobe un prozac, appelle le 3949 et raccroche, déprimé. Là, il bricole des images, triture la 3D, dose la couleur, filme et déforme la réalité. Autant de matières personnelles et hallucinées qu'il mixe en direct à travers un live fébrile et survolté. Vu avec Paral-lel, Svindron, Azraël, Velveteen glove, Gzzzt et de retour au Transbo à Lyon pour une soirée totalement déjantée.
---
>>>> LINKS:
Digitick
Event Facebook
agenda Transclub
http://www.aadn.org
http://www.activedisorder.org
http://www.beerecords.com
http://www.jarringeffects.net
http://www.transbordeur.fr
---
CLUB TRANSBO – LE TRANSBORDEUR
3 bvd. de la bataille de Stalingrad, Villeurbanne
Bus C1, C2, C4, C5, C26, 70 et Vélo'v : arrêt Cité Internationale/Transbordeur