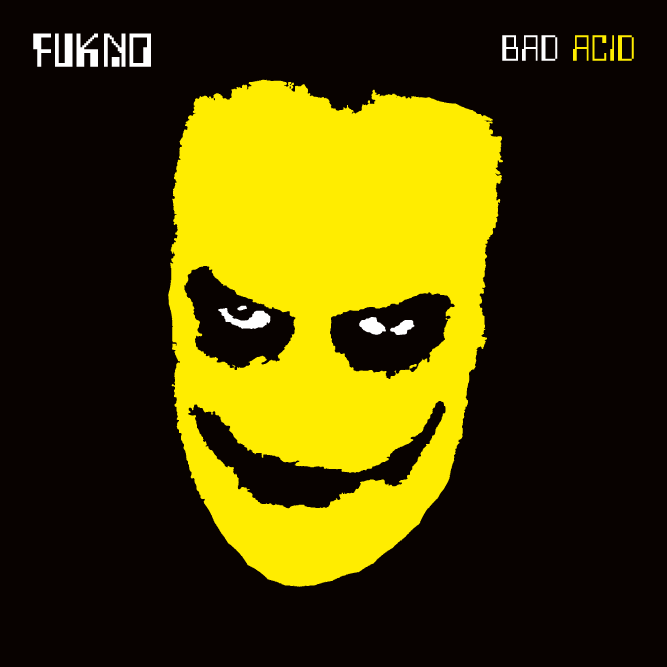 FUKNO Bad Acid (CDR limited edition)
Disponible en vpc direct chez nous ou dans notre réseau de distribution 6€.
Available by mailorder from us or from our distribution network 6€
Nous sommes très fier de sortir ce premier album de FUKNO sur BRK.
FUKNO, c'est un des projet récents de Guy Sterling, producteur, graphiste, et label manager ultra-prolifique qui a déjà fait parlé de lui avec ses projets remontant à l'époque de System Corrupt : Rainbow Ejaculation (gay cut-ups ultra saccadés) et Rank Sinatra (noise karaoké)… Chaque fois, Guy Sterling conceptualise avec soin chacun de ses projets avant de les mettre en œuvre, la plupart des projets, graphiques ou musicaux sont souvent centrés sur le détournement, le recyclage et le copier coller… Pour FUKNO c'est une immersion complète dans l'univers « acid » avec l'utilisation exclusive de vieilles machines qui ont marqué ce genre musical pour obtenir des sons analogiques bruts lors de longues sessions d'improvisation. Les improvisations sont basées sur l'exploitation et le bidouillage de patterns existant souvent dans les presets qui sont modulés et filtrés par un dispositif de pédales d'effets (on est bien là encore dans l'esthétique recyclage). Les enregistrements sont ensuite découpées et triturées pour prendre forme et devenir de vrais morceaux… ACID-HARSH-NOISE REVIVAL… bien loin au final des sonorités des tubes de la Acid House.
Le site de Guy Sterling aka 667u?, reprend l'ensemble de ses projets artistiques et travaux, il y a une page dédiée à FUKNO qui comporte quelques pistes et démos à télécharger…
En guise de teaser, voici un enregistrement live de FUKNO quelque part en Australie.
We are very proud to release the first FUKNO album on BRK.
FUKNO, is one of the most recent musical projects by Guy Sterling, ultra-prolific producer, graphic designer and label manager who has already acquired a reputation with his main projects dating to the System Corrupt days : Rainbow Ejaculation (ultra-fast gay cut-ups) and Rank Sinatra (noise karaoke)… Guy Sterling meticulously conceptualises his projects before going ahead, most of them, musical or graphic are centred on reappropriation, recycling and cut and paste… With FUKNO it is a complete immersion in the « acid » universe with exclusive use of old machines that are emblematic of the genre in order to obtain analogical sounds during long improvisation sessions. The sessions are based on the exploitation and fiddling around of patterns often existing within the presets and that are modulated and filtered through a set-up of effects pedals (are we not again spot-on in the recycling aesthetics) The recordings are the then cut-up, rearranged to become the final tracks, in the end a kind of ACID-HARSH-NOISE REVIVAL very far from the sounds of Acid House.
Guy Sterling's (aka 667u?) website, covers all of his artistic projects and work, there is a page dedicated to FUKNO with several tracks and demos for download…
And as a Teaser, here is a live recording of FUKNO somewhere in Australia.
Guy Sterling website: http://www.667u.com/
FUKNO page: http://www.667u.com/fukno.htm
Soundcloud : http://soundcloud.com/667u
Tracklist:
1 – Bird Caught in my Acid
2 – Federal Election Acid
3 – Oprah in Oz Acid
4 – Meat and Three Veg Acid
5 – Off Your Ass Acid
6 – Social Leprosy Acid
7 – Single Income Acid
Music & Logos by: Guy Sterling / Layout & screenprint by: Stereotype.
Guy Sterling website: http://www.667u.com/
FUKNO page: http://www.667u.com/fukno.htm
Soundcloud : http://soundcloud.com/667u