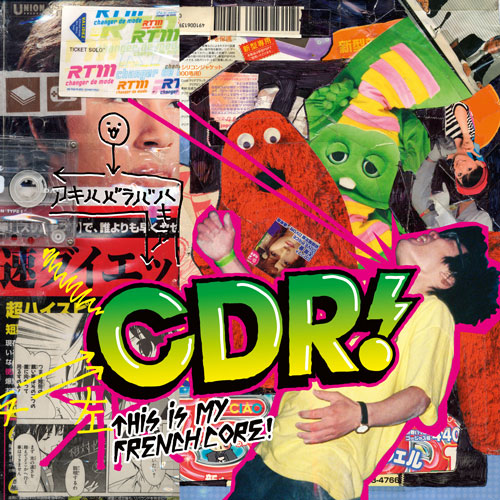 CDR: «This is my Frenchcore»
Album – édition cdr strictement limitée
Tracklist:
01 – rotterdam mixxx
02 – nodochinko
03 – 8bit_boy (feat. Metta)
04 – bon dod
05 – 21st century
06 – baby fucking love
07 – prince joseph
08 – hatten remix
09 – berry
10 – 78rpm
11 – a day in the life
12 – Ants (cdr remix)
13 – peace or riot
14 – ben hu a (cdr remix)
15 – Fuckcreation (cdr remix)
16 – soft head or hard head
All tracks by Hikaru Tsunematsu
track 08 original track by Sub-69
track 12 original track by Maruosa
track 14 original track by Tale Twist
track 15 original track by Rektal Distortion
Un album jouissif issu d'une rencontre un peu magique. On a programmé et rencontré Hikaru aka CDR dans le cadre de la soirée Bass and Breakfast pour la fête de la musique 2009. Ce soir là, à 05h00 du matin a scotché la foule. Il nous a gratifié d'une performance irréelle… Un set torride où debout sur la table à brailler dans son micro ou nageant dans la foule il n'a passé que quelques brefs instants derrière son ordi. La bande son de ce spectacle burlesque un mélange gabber noise terror des plus chaotiques. Bref il nous a tout de même démontré sa folie et son inspiration musicale. Allez voir vidéo
Avec «This is my Frenchcore» (album en cdr à tirage limité), CDR dévoile toutes les facettes et les différents aspects de sa musique un peu schizophrénique. Breakcore déjanté, IDM, happy hardcore, gabber noise, rn'b mouliné, électro émotionnelle et digital punk se rencontrent tout au long des 16 titres de cet opus…
Un album ultra intense… CDR ne laisse ici aucun répit à l'auditeur…
Packagé avec stickers et une mini-BD KUSOMANGA de CDR
****************************
CDR: "This is my Frenchcore"
Strictly limited edition Album – cdr
An ecstatic album resulting of a magical encounter. We programmed and met Hikaru aka CDR for the Bass and Breakfast party we organised in june 2OO9. On this occasion, at 05AM he gave a stunning performance that impressed the crowd. He gratified us with a surrealistic performance… A hectic set spent dancing on the table shouting in his microphone or surfing the crowd, more than behind the laptop. The soundtrack to this burlesque show: a perfect and totally chaotic mix of gabber noise terror. CDR clearly demonstrated his inspired musical madness. Check out the video
With "This is my Frenchcore" (cdr limited edition album), CDR clearly expresses all the aspects of his schizophrenic music. Wicked breakcore, IDM, happy hardcore, gabber noise, mashed-rn'b, emotional electro and digital punk collide and meet throughout the 16 tracks of this opus.
An ultra intense album… A real challenge for the listener…
Packaged with stickers and mini comic print of KUSOMANGA by CDR
MYSPACE: http://www.myspace.com/cdrdc
SITE: http://www.asahi-net.or.jp/~zr3a-tnmt/
LABEL: http://www.rdcrecords.com