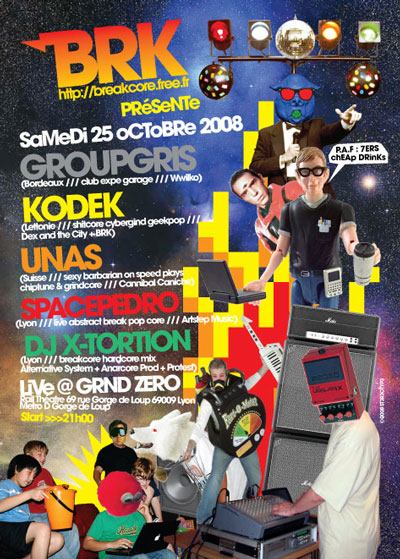 BRK présente
GROUP GRIS /// KODEK /// UNAS
SPACE PEDRO /// DJ X-TORTION
live @ GROUND ZERO
25 Octobre 2008 start 21h00
Des photos de la soirée par Julien Jay sur son site…. D'autres par petteri sur son espace Flickr et bien sur des clichés de CARLOS le photographe officiel et bénévole de BRK (MERCI…).
Un Montage réalisé par notre pote et nouveau collaborateur et vidéaste… Nico Afficheur:
Et une série de vidéos du live de Kodek par DJ XTORTION sur Daily Motion…
******************************
+++ GROUP GRIS Wwilko /// Club – Expé – Garage
Group Gris, est actif au sein de Wwilko (label electro low-fi ravageur), producteur du son de Kap Bambino (qui ont mis le feu aux Nuits sonores 2008) et du le projet électro-grind Gazormass… Avec Group Gris, il propose un mélange disjoncté : country dyslexique, digital folklore, électro foutraque, croisements contre-nature et déconstruction obligée le tout avec une dose colossale d'énergie et un esprit digital punk alcoolisé. +++ MP3
http://www.myspace.com/groupgriserror /// http://www.wwilko.com
+++ KODEK
Dex and the City + BRK /// Shitcore, Cybergrind, Geekpop
Une date unique en Europe de l'Ouest, ne ratez pas votre chance de voir le petit prodige breakcore-8-bit de Lettonie. Hyper actif il participe à de nombreux projets. Mash ups, centaines d'amen breaks, pop songs des 80,'s, heavy metal et chiptunes vomit… seront les ingrédients d'un live imprévisible et à bloc d'énergie. +++ MP3
TELECHARGEZ aussi LES EP DE KODEK SUR LE SITE BRK
http://Dex.Neirothe.net /// http://www.myspace.com/kodekkk
+++ UNAS Florian Death VS Sensible
Cannibal Canniche /// Chiptunes, Breakcore, Speedcore, Death Metal & Grindcore
Devenu un de nos héros au fil des scènes, il rassemblera, pour cette soirée, ses différents projets en un même show… Sexy barbarian on speed plays somewhere between chiptunes and grindcore. +++ MP3 +++ MP3 +++ MP3
http://www.myspace.com/unasrakraganh /// http://www.unra.cn
+++ SPACE PEDRO
Artstep Music /// Live Abstract Break Pop-Core
Pedro a un son personnel tout droit sorti des étoiles, peu conventionnel et qui change au feeling et au grès des soirées, à l'image du free jazz, WICKED! Son nouveau projet discographique sortira prochainement sur Artstep Music.
http://www.myspace.com/artstepmusic ///
http://www.myspace.com/spacepedro
+++ DJ X-TORTION
Alternative System + Anarcore Prod + Protest records /// Breakcore-Hardcore Mix
DJ X-TORTION aka TOXIKBOY est Dj et producteur français, fondateur de Alternative System (1998-2003) et d' Anarcore Prod (Suburbass, Mem Pamal…) il est aussi signé chez International Rec, Protest Rec, Power vs Power. Il proposera ce soir un DJ set aux imbrications Metal, Punk et autres sonorités distordues.
http://www.myspace.com/toxikboy
GROUND ZERO Rail Théatre 69 rue Gorge de Loup 69009 Lyon/
Metro D Gorge de Loup
PAF 7€uros (5ERS avant 22H00)/ cheap drinks
Partenaires: Hydrokult /// Marquis /// Casantina /// Soda Bar