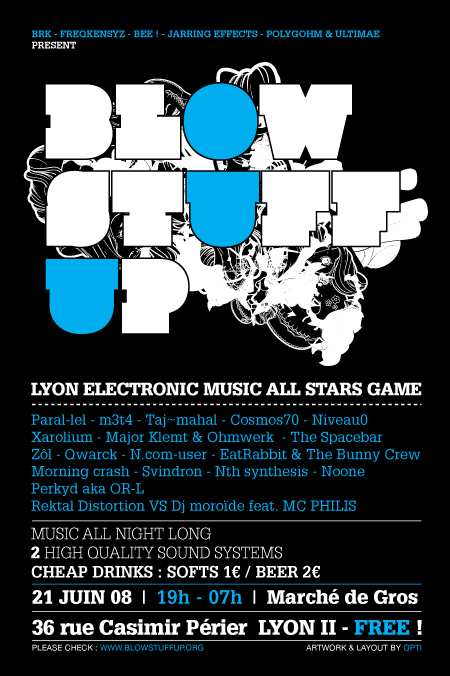 Trois vidéos-interviews du collectif recmag pour illustrer la soirée.
présentent
Live Samedi 21 Juin 2008 @ Marché de Gros-Lyon
A l'occasion de la fête de la musique du 21 juin 2008, les structures BEE Records, BRK, Freqknsyz, Jarring Effects, Polygohm et Ultimae souhaitent poursuivre leur travail commun initié en octobre 2007 autour des soirées BLOW STUFF UP. Un rapprochement de plusieurs acteurs régionaux des musiques électroniques reconnus pour proposer au public un large choix d'écoute des différentes tendances des musiques électroniques actuelles.
L'objectif de la programmation est avant tout de garantir une ambiance festive et dansante en proposant 12 heures de Lives et DJ Sets non stop dans un lieu atypique : le Marché de Gros. Ainsi, 24 artistes se produiront sur les 2 scènes couvertes installées à cette occasion grâce au soutien de la ville de Lyon et de la salle de concert le Marché Gare.
Electro dub & hip hop éclectiques, idm & electronica, trance & ambient, drum n' bass, dubstep & jungle, psychdelic electronics, breakcore seront au menu avec des artistes émergents qui seront associés à des artistes confirmés de la scène locale et nationale.
INFOS PRATIQUES
Date : Samedi 21 Juin 2008
Lieu : MARCHE DE GROS Cours Charlemagne LYON 2
Un plan à votre dispo ici
Horaires : De 18h à 6h
Entrée gratuite & cheap drinks and food
LES ARTISTES :
SCENE 1: 18h-6h
Tajmahal (Ultimae) – Ambient Mix – myspace.com/tajmahal2012
Opti (Jarring Effects – Airflex) – Dubs & FX Mix – myspace.com/opti_loves_breaks
Niveau Zero (Jarring Effects – SubCulture) – Live Electro – myspace.com/niveau0
Nth Synthesis (Bee Records) – Live electronica – myspace.com/nthsynthesis
The Spacebar (BRK – OOBE – Nun-Shaker) – Psytrance – myspace.com/thespacebarpsy +++ MP3
Major Klemt & Ohmwerk – (Polygohm) – Live Breakstep – myspace.com/polygohmrecords
Xarolium (FreqKnsyZ) –Live Acid Hardware – myspace.com/xarolium
N-Com.user (FreqKnsyZ) – Dj Show – myspace.com/ncomuser
Paral-lel (Bee Records) – Live Electronics – myspace.com/pll
Kwark (Ultimae) – Trance Mix – www.ultimae.com
ZôL (Jarring Effects) – Live Techno Break – myspace.com/zolbox
Eat Rabbit & the Bunny Crew (BRK- Lyon micromusique_HQ) – 8-bit bootycore – myspace.com/eatrabbit +++ MP3
SCENE 2: 21h30-5h
Phasme (Bee Records) – Live electronica – myspace.com/mynameisphasme
Noone vs Morning Crash (Bee vs Polygohm) – Live Electro – myspace.com/nooneroom
Svïndron (FreqKnsyZ) – Live Electronica – myspace.com/svindron
Perkid (Jarring Effects – Airflex) – Massive Breaks & Bass mix – myspace.com/perkid1
Freddypogo (Bee records) – Electro Mix – myspace.com/freddypogo
m3t4 (Polygohm) – Drum & Bass Mix – myspace.com/m3t4music
Rektal Distortion vs. DJ Morroïdes feat. MC Stite (BRK) – Tantric mayhem vs analcore – http://breakcore.free.fr +++ MP3
LES STRUCTURES :
BEE Records, http://www.beerecords.com
Née en 2000 l'association BEE s'est d'abord fait connaître en organisant des soirées electro/breaks dans divers lieux sur la région lyonnaise (Pezner, Sonic, Marché gare, Musée d'Art Contemporain, Kao, Marquise, Plateforme…) puis est rapidement devenu BEE Records un label de musique électronique tout azimut. De l'electronica la plus pointue à l'electro-breaks plus dancefloor BEE a toujours défendu ces musiques indépendantes coincées entre l'élitisme et le grand public que ce soit au travers de ses productions (4 vinyles & 7cd ) ou lors de ses soirées.
BRK, http://breakcore.free.fr
L'association BRK a été créée autour de sa webradio afin de rassembler les fans des styles « break » les plus expérimentaux et éclectiques de la scène électronique locale. BRK propose des soirées depuis 2005 dans le but de faire découvrir au public Lyonnais des artistes confirmés au niveau international. Aujourd'hui BRK a également à son actif deux compilations regroupant des représentants des scènes locale, nationale et internationale.
Freqknsyz, http://www.myspace.com/freqknsyz
FreqKnsyZ est éditeur de musique, fondé en 2000 par le musicien électronique Raphaël Sirvent (N-com.user). Les domaines d'activités sont la création, la diffusion, la formation et le conseil en stratégie et marketing.
Jarring Effects, http://jarringeffects.net
Depuis 1997 l'association JARRING EFFECTS est le fer de lance de la scène électro-dub française et un des acteurs principaux de la scène locale. JARRING EFFECTS regroupe une multitude d'artistes représentant de nombreux styles des musiques électroniques. Aujourd'hui, le label compte plus de 70 références et l'association se prépare à organiser la 10ème édition de son festival Riddim Collision à la rentrée 2008.
Polygohm, http://www.myspace.com/polygohmrecords
Polygohm est un collectif rassemblant producteurs et Djs férus de basses fréquences.
Reconnu sur la scène internationale grâce à la diffusion gratuite de leur musique sur internet, le collectif organise également les soirées Temple of Bass dont la fréquentation ne cesse de s'accroître à chaque édition. Le collectif a fêté ses un an des soirées Temple of Bass le samedi 24 mai au Ninkasi Kao et de nombreux projets discographiques sont en prévision pour la rentrée 2008.
Ultimae, http://www.ultimae.com
Fondé en 2000, le label Ultimae (contraction du latin Ultimae terrae, « les terres les plus lointaines »), développe une musique ambient electronica avec des excursions trance-up beats. Avec ces musiques d'exils hypnotiques, propices aux voyages immobiles, le label a pris en quelques années une ampleur internationale et propose des plateaux sonores de part le monde.
Avec à son actif plus d'une trentaine de productions, Ultimae est également distributeur online et digital, studio de mastering et de développement web.
LES PARTENAIRES :
Hydro Kult