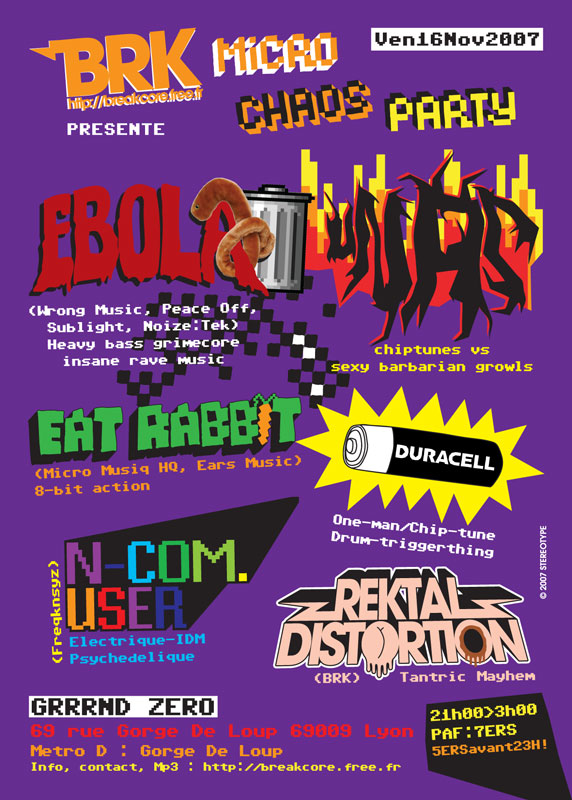 BRK présente MICRO CHAOS PARTY @ GRND ZERO Lyon
Vendredi 16 Novembre 2007 21h00-3h00
PHOTOS: CARLOS
UNAS Chiptunes vs sexy barbarian growls
http://www.unra.cn
Ce petit homme des vallées jurassiennes, accro aux jeux vidéos et au sexe, prend un malin plaisir à s'exhiber tel une vieille chaudasse à la libido débordante et se faire tâter la fesse en hurlant à la mort sur ses compos « micro-punk »…
Rendez vous sur le weblabel ANTISOCIAL pour son album: 8 BIT RNR en téléchargement gratos.
EBOLA (Wrong Music, Peace Off, Sublight, Noize:Tek) Heavy bass grimecore and insane rave music http://www.ebolabeats.co.uk
Un des fondateurs du label Wrong Music. Pas tant du breakcore que de l'electro-funkedop-repair-core. Allez sur le site de wrong music pour télécharger son dernier album « Workshop Of Filthy Creation » gratuitement. (et plus sur http://www.net-lab.co.uk)
DURACELL one-man chip-tune drum-trigger thing
http://andrediamant.free.fr/duracell.htm
On ne le présente plus…. Comme toujours aux commandes de sa batterie, il saura susciter l'hystérie.
N-COM.USER (Freqknsyz) Electrique-IDM-Psychédélique
http://www.myspace.com/ncomuser
« Il conclut la compile BRK par une superbe piste d'atterrissage qu'Aphex Twin lui même ne pourrait renier » (Opti-jfx). Au programme expérimentations sonores, maîtrise du son et technique pour un set mental et intense.
EAT RABBIT (Micro Musiq HQ/ Ears Music) 8-bit action
http://www.eat-rabbit.com
Le digne représentant de la micro musique et de la scène 8 bit locale, de retour pour un set à la maison après avoir fait danser les foules à Barcelone, en Sicile à Moscou et dans les contrées les plus glaciales de la Sibérie.
REKTAL DISTORTION (BRK) Tantric Mayhem
Ce mec à des problèmes et a sérieusement quelque chose à se prouver !!!
Projection vidéo : DERNIER CRI : Religions Sauvages
Venez à 21h00, ne ratez rien !!!
Vendredi 16 Novembre 2007 21h00-3h00 PAF 7ers/ 5ers avant 23h
GRND ZERO: Rail Théâtre 69 rue Gorge de Loup 69009 Lyon (Metro D : Gorge De Loup)