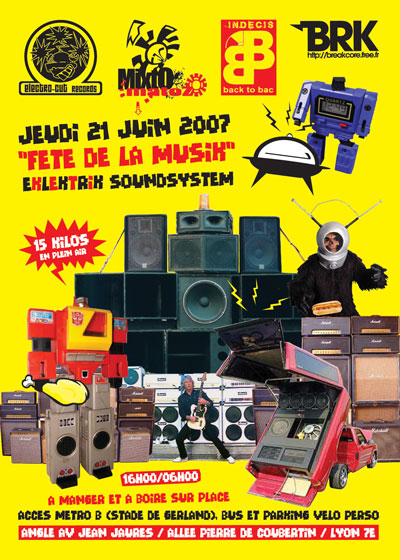 ELECTROCUT/ BACK TO BAC/ MIXTOMATOZ/ BRK
vous présentent
"EKLEKTRIK SOUND SYSTEM"
En plein air JEUDI 21 JUIN 2007 16h00-06h00
TECHNO-TRIBAL, DRUM'N'BASS, ELECTRO, BREAKCORE, PSY-TRANCE, JUNGLE, GABBER et HARDCORE… de 16h à 6h, pour que la fête de la musique du 21 juin 2007 soit une soirée mémorable.
Sons par:
22EME LIBELLULE (live Trip-Hop)
NEDDIX (mix BreakBeat)
T2C (mix breakbeat electro)+++mp3
DJ DISCHORDIA (mix psytrance)+++mp3
LE POULPE (mix electro)
SPACE PEDRO vs THE REAL FAKE MC (live breakcore with MC)
INDECIS (Live electro-teck)
DJ SKAR (mix Jungle)+++mp3
LEO (Versus crew) (mix drumNbass)
EOM (mix hardtek)
RANDOMATIK BLAST (live breakcore)+++mp3+++mp3
EAT RABBIT (live8-bit)+++mp3+++mp3
AKTIV 25 (live Drum n' bass)
SPEAKTERROR (mix gabber)+++mp3
BEN LARSEN (mix hardcore)+++mp3
VIDEO: KRITIKATOR (grosso gadgeto) ///
JOE IBK /// CYCLOPTIC ///
Jeudi 21 Juin 2007 16h00-06h00: A manger et à boire sur place
Lieu : Espace plein air,
Croisement Avenue JEAN JAURES et Allée PIERRE DE COUBERTIN
Lyon 69007/ proche du parc de Gerland
Métro B : stade de Gerland+ BUS 96+
Parking Vélo
++++++++++++++++++++++++
Un petit mot sur les assos:
ELECTROCUT (http://www.electrocut.net)
L'association ELECTROCUT fête ses dix ans de promotion des musiques électroniques et d'organisation de soirées. ELECTROCUT est un collectif de DJ aux influences variés qui a fondé en 2006 son propre label indépendant avec déjà plusieurs sorties vinyles de qualité et de belles perspectives à venir… Pour cet événement ce collectif représentera les styles des musiques électroniques les plus radicales : jungle, hardcore et gabber.
BACK TO BAC/ INDECIS (http://www.backtobac.com)
Le collectif Indécis organise de nombreux évènements depuis des années. Passionnés de musiques électroniques et engagés depuis toujours dans la scène locale, ils partagent leur passion dans leur magasin Back to Bac, espace dédié à la culture electro et au DJing.
MIXTOMATOZ (http://www.mixtomatoz.net)
Sound system lyonnais, actif dans le mouvement Free Party depuis 2001, le collectif Mixtomatoz, efficace et éclectique, présente des mix et live d'artistes allant du Trip Hop au Hardcore en passant par le breakbeat.
BRK (http://breakcore.free.fr)
L'association BRK a été créée autour de sa web-radio en 2005 pour rassembler en premier lieu les amateurs et artistes de la scène breakcore à un niveau local. Mais BRK organise aussi des évènements dans le but de rassembler sur scène des artistes locaux et des artistes de renommée internationale les plus expérimentaux de la scène électronique.
Nos partenaires:
MARQUIS BODY ART: Piercing & Tattoo (http://www.myspace.com/MarquisBodyArt); 22 rue Terme 69001 LYON
KULTURES: Growshop (http://www.kultures.fr); 15, rue des capucins 69001 LYON tel 04 72 87 01 76
SONOSNIPER: Son, Lights & Accessoires (http://www.sonosniper.com)
SONOSMILEY: prestations son et lumières.