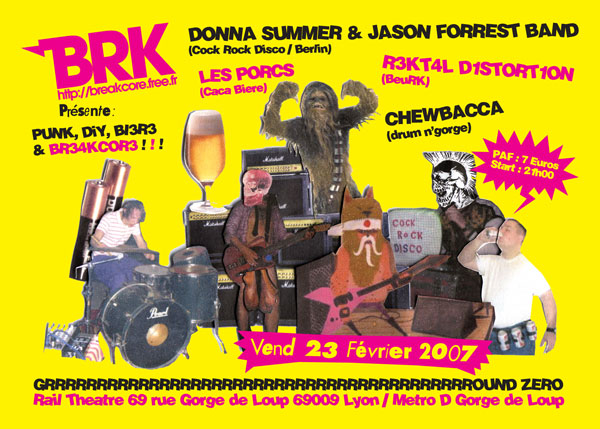 DONNA SUMMER & le JASON FORREST BAND,
LES PORCS, CHEWBACCA, REKTAL DISTORTION
Vendredi 23 février au Grnd Zéro / Rail Théâtre à 21h
Grnd Zéro / Rail Théâtre 69 rue Gorge de Loup 69009 Lyon/ Métro D Gorge de Loup
---
Du grand spectacle et une soirée bien réussie. Merci à tous d'être venus tôt pour écouter ceux qui ont ouvert la soirée. Merci à tous nos amis bénévoles, sans qui tout cela ne serait pas possible.
Pour l'instant pas plus de photos, il faudra patienter un peu… en attendant rendez-vous sur le site de tilllate, ils nous ont envoyé un reporter et donc y'a quelques photos à voir.
---
Tout droit venu de Berlin et fondateur du label culte Cock Rock Disco, Donna Summer
se produira pour la 1 ère fois en France sous la forme du Jason Forrest Band !
Venez aussi vivre une vraie expérience « live » avec Chewbacca , le duo Drum n'Gorge explosif,
Rektal Distortion pour un mix breakcore interactif et le groupe punk rock hilarant
Les Porcs qui ouvriront le bal dès 21h.
En savoir plus sur les artistes…
DONNA SUMMER aka JASON FORREST (http://cockrockdisco.com/DS-bio/bio-main.html) +++mp3 +++ mp3 +++ the bbtcore mix
La superstar du breakcore DONNA SUMMER aka Jason Forrest est enfin de passage sur Lyon. Connu autant pour ses lives que ses compos en forme de superpositions extravagantes de sons funky 70's, d'assauts Groovy et Looney Tunesques, de bootlegs hasardeux et de lignes de basses massives le tout sur un rythme endiablé. Un vrai showman.
JASON FORREST BAND (http://cockrockdisco.com)
Musicalement, ce Rockband expérimental est dans la ligne directe de l'album de Donna S.ummer…  » Post Disco Crash » mais plus rock/hip-hop/progressif. Leur son est unique, différent de tout ce qui a jamais été entendu et ils DECHIRENT. Ecoutez leurs MP3…. Ils seront à Lyon pour leur première date en France.
LES PORCS (http:// lesporcs.com) +++mp3 +++ mp3
Les Porcs sont devenus mythiques au fil de leurs concerts punk rocks aux allures de comédies musicales hilares dédiées à la bière et au caca. « Les porcs » présenteront leur formation avec un nouveau chanteur : il est beau, il est bien gras, il vous plaira…Mr GrobeN pour vous servir… pour l'occasion, les porcs ne joueront pas saouls ils joueront complètements bourrés.
CHEWBACCA (http://batterievoix.free.fr)+++mp3 +++ mp3
C'est le Duo formé par Damien Grange à la voix/micro/chaos et André Diamant à la minimal batterie mais puissante, deux personnages emblématiques de la scène alternative Lyonnaise. Le Duo Chewbacca live c'est le CHAOS, vite, fort, intense. Chewbacca ne joue pas sur scène, ne fait pas du spectacle, mais une sorte de chaos avec les gens pour toucher la création du moment partagé par une transe collective.
REKTAL DISTORTION (BeuRK) +++mp3
aka Toxie The Toxik Avenger, aka Dyschordia, aka FellonColie, aka DavidKeta, aka Spank… Vous attendiez cette apparition de Mr Rektal Distortion ne la ratez pas… Ce soir, scatologie interactive pour cerveaux dérangés. Une performance de Djing qui mettra tout le monde à contribution.