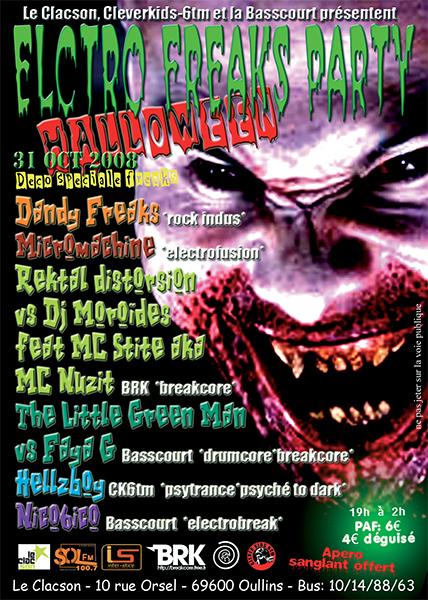 La Basscout & Cleverkids-6tm
présentent
HALLOWEEN ELECTROFREAKS PARTY
Vendredi 31 oct 2008
Comme Halloween tombe un vendredi cette année, jour de concert au Clacson, les freaks de Cleverkids-6tm et la Basscourt ont décidé de célébrer cette fête païenne à leur façon avec les musiques electro les plus proches de l'esprit de cette fête.
Deux concerts/spectacles avec les Micromachine et leur Electro-Kung-Fü-dance floor ainsi que les Dandy Freaks, spécialistes du rock electro déjanté avec grosse perfo scénique. Côté DJ, âmes sensibles s'abstenir, on aura un set breakcore Rektal Distorsion et ses 2 acolytes de BRK qui ne pouvaient qu'être de la partie lorsqu'ils ont entendu parler de Freaks. Tout aussi radical mais dans un autre genre, The little Green Man et Mc Faya G présenteront leur nouveau mix drumcore/breakcore.
Pour entammer la soirée, nous vous invitons dès 19h a boire un apéro sanglant spécial halloween offert et à volonté avec au bar Nicocico pour un mix electrobreak et pour vous mettre dans l'ambiance, Hellzboy prendra les manettes avec un set trance psyché qui n'aura pas à palir face au breakcore de fin de soirée. Donc n'hésitez pas à venir tôt pour voir tout les artistes.
Paf:4€ déguisé/6€ (apéro offert, dans la limite des stocks disponibles)
Le Clacson 10 rue Orsel 69600 Oullins
Bus: 10/14/88/63 arrêt: Pont d'oullins
Dandy Freaks:
Entre trip fluo, rock'n'roll, séries Z et techno, la formation témoigne d'un goût certain pour le fil du rasoir et le non-sens érigé en règle de vie.Ce qui donne un cirque rétro-futuriste où ces extraterrestres trimballent et déballent pêle-mêle sur le dance-floor : costumes, strass, accessoires, paillettes, couleurs, dans une effervescence de fête foraine et de rave-party.
Micromachine:
Live électro énorme, orchestré par quatre experts dans l'art de vous faire danser malgré vous. Dark Fader, Fat Burner, DJ Maker et VJ Zero infligent une correction aux brebis égarées par le mirage de la variété. Mais ces performers savent aussi se montrer cléments en s'adonnant à des chorégraphies hybrides, entre cagoule et cinémascope, aux confins du break-dance et du kung-fu.
Rektal Distortion vs. DJ Morroïdes & MC Stite
(Live/ BRK crew/ Lyon / Tantric Mayhem meets Booty-Break-Analcore)
Le fameux Rektal Distortion sera à nouveau accompagné pour ce show par ses deux
acolytes, les désaxés mentaux Didier Morroïdes et Mc Stite aka MC Nuzit,
partenaires de BRK, depuis peu échappés de l'asile de St-Jo. Un show
overamphétaminé, résolument dégénéré et déglingo, à la limite du crackage…
http://www.myspace.com/rektaldistortion
THE LITTLE GREEN MAN vs MC FAYA G:
Artiste passionné de musiques électroniques « The little green man » est plutôt connu pour ses mixes Hardtek/Tribe.Il est maintenant aussi entendu avec des mixes Hardhouse, Breakbeat et Tek appuyé sous le nom « Le pt'it ohm vert ».
Pourtant il y a 10 ans il débutait avec du gros son Hardcore et Breakcore. Pour cette soirée Freak retour au source avec un set Drumcore/Breakcore accompagné de son chanteur MC FAYA G.
Hellzboy:
Fondateur de Cleverkids-6tm et régisseur son, Hellzboy est passionné de music electronic et collabore avec de nombreuses associations comme Hadra ou BRK. Après des productions electrofusions et expérimentales, il se produira sur scène avec un mix trance psyché et dark.
Nicocico:
DJ depuis une dizaine d'années, activiste du mouvement free party et co-fondateur de la basscourt, il lancera la soirée avec un mix drum'n bass, mental to expérimental, pour un apéro sonore mouvementé.
VJ Clearscreen:
Clém'S aka CLearScreen a commencé le mix vidéo sur Amiga au début des années 2000 en s'inspirant de la scène free party et du demomaking.
Désormais, il travaille sur PC avec contrôleur midi, pour des sets sur 2 écrans encore plus lives et réactifs.